Your business can do so much more through Facebook Messenger.
Introducing the Chatbot... the kryptonite to your customer service and marketing operations.
The utilisation of chatbots through Facebook Messenger will aid your social media following with their information search. You can set FAQs that satisfy the most generic of queries.
In this blog, I shall be discussing how you can enhance your social media campaigns through the use of Facebook Messenger chatbots.
Why should I use a Facebook Messenger Chatbot?
Through third-party services, you can install a Facebook Messenger chatbot onto your company's Facebook page.
By having a chatbot installed have can enhance customer relationships through automated conversations with prospective customers.
You can probably picture this scenario... a new customer messages you but you are busy with alternative business tasks that diverts your attention away from Facebook. Then by the time you have the time and chance to respond, you have lost that lead.
Through a chatbot, you can funnel responses to customer queries via menus or keywords that leads customers through a journey with your brand.
This evidently saves you time whilst banishing the superficial questions that don't convert leads to sales.
Facebook Messenger Chatbots is a digital marketing strategy that enables your customers to either purchasing tickets to your events, get directions to your business, see a menu, set up a meeting with you or ask a general question.
For example, you own a sports shop and selling all the new fads and trends within the sports clothing industry. You are about to launch the latest Liverpool replica kits for the new season. You'd program the keyword 'Liverpool' into the the chatbot. Thus, when the user asks a question that contains the keyword 'Liverpool', your chatbot will churn out a return message that promotes the new replica kit directly from your website's catalogue.
A chatbot is touching on your business utilising the most basic forms of artificial intelligence.
YES YOU ARE EMPLOYING ALIENS!!!
What are the benefits of using Facebook Messenger Chatbots for my brand?
Within marketing and consumer behaviour we have a model known as the 'Consumer Decision Making Process'. Which understands each step a customer makes in order to coming to the decision to purchase a brand's product or service.
As we embark further within the 21st century, Facebook is becoming a go-to source for information. Therefore, auto-responders will aid engagement with loyal or prospective customers.
As such, you can utilise something known as 'Facebook Pixels' to remarket customers that have shown an interest in you but haven't had converted. Pixels can be utilised through ad campaigns and pop up on their news feeds so they can re-ignite the spark that attracted them to you in the first place.
Facebook Messenger Chatbots enables your business to initiate conversations with your potential customers rather than waiting for them to approach you.
Facebook allows your brand to upload email addresses and phone numbers from a opt-in list and then place them into a custom Facebook audience. Disclaimer: Facebook charges a fee for such a service. However, you can message them directly straight from your business page.
Withour further ado lets embark on the journey to creating a Facebook Messenger Chatbot.
#1: Creating the Chatbot
I personally opt to us Chatfuel for creating a Chatbot however Botsify, and OnSequel will also let you create a chatbot without complicated programming.
Therefore, I am going to provide you with a FREE guide to build your frist Facebook Messenger Chatbot with a menu system that you have preselected. Where user will experience options that they can click thus navigating through a menu system.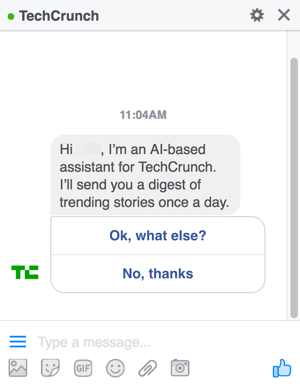 Chatbot Lingo
Block - A block refers to one or more cards (messages). Within a block many messages can be spent at one given time. Additionally, you can implement a call-to-action button where you can provide a URL, a phone number or even leading onto a new block.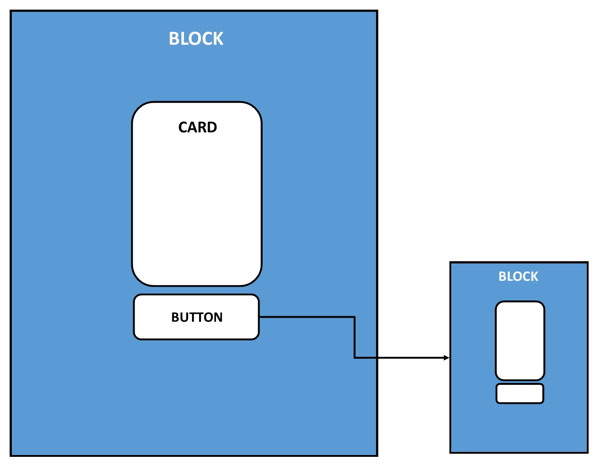 The different aspects of cards available are: gallery, text card, image, or plugin:
A gallery card can be utilised to show multiple images in a carousel style, each with a heading, subtitle, URL, buttons, or a quick reply. A quick reply is an extra card that can act as a prompt with further instructions from your page if the user doesn't know what to do next in your sequence of automated messages.
A text card includes a place for text, buttons, or a quick reply.
An image card includes an image and a quick reply.
A plugin card includes integration options such as letting people read or subscribe to your blog via RSS, send a post from your Instagram, Twitter, or YouTube accounts with IFTTT or Zapier, and many more options like Google Sheets or Google Calendar.
To curate a Facebook Messenger Chatbot with Chatfuel, first set up a Chatfuel account. After you log into your Facebook account, click the + sign to start your new chatbot.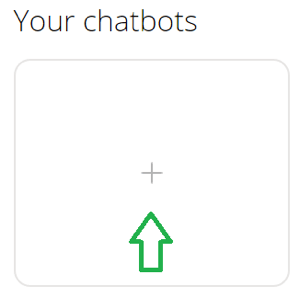 Next, you can either choose a template to edit or create a blank chatbot from scratch. Enter a name for the chatbot in the text box and click the red Create a Chatbot button to create it.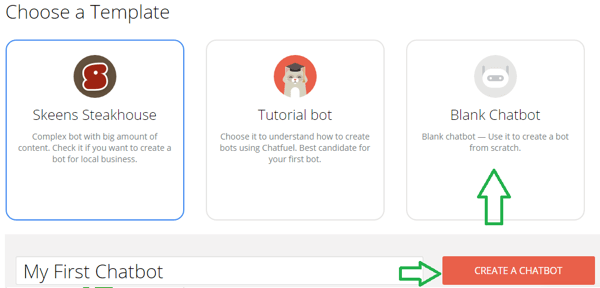 On the page that follows, click Connect to Facebook.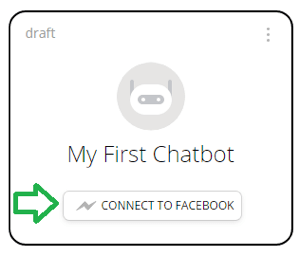 Choose an existing Facebook business page or create a new page where the bot will reside.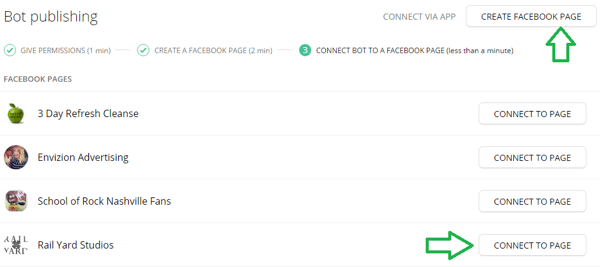 Now you need to click Build that appears in the sidebar menu to start building your Facebook Messenger Chatbot.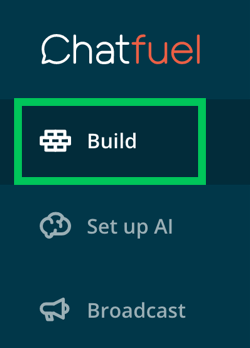 Once you have achieved this, you will receive a default welcome message on a text card; it's the first thing users will see when they enter your Facebook Messenger.
You can keep this text card for your chatbot, add another one to it (such as an image), or alternatively re-do over with one of the other options available. Such as a gallery or plugin.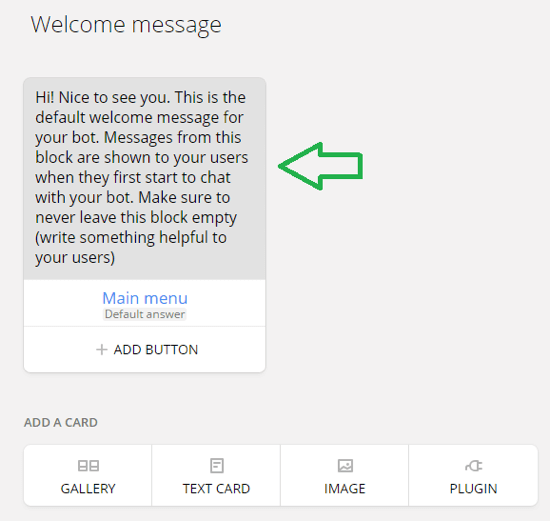 Next, you should enter the features of the card you've selected. Also add call-to-action buttons to the card that users can click to take the next action such as get a phone number, visit a URL, or open a new block.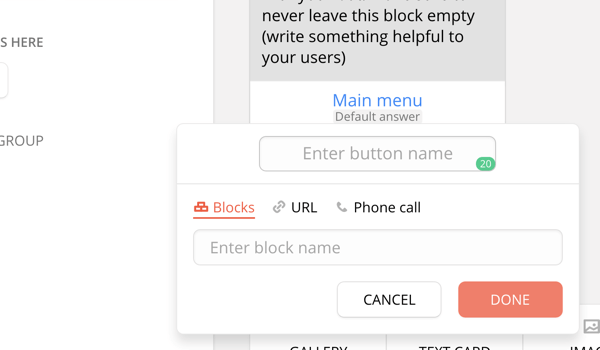 Chatfuel lets you alter the message that will be your first response once the customer asks the AI a question.
You can either change the text here or create a custom block to add in place of the default answer.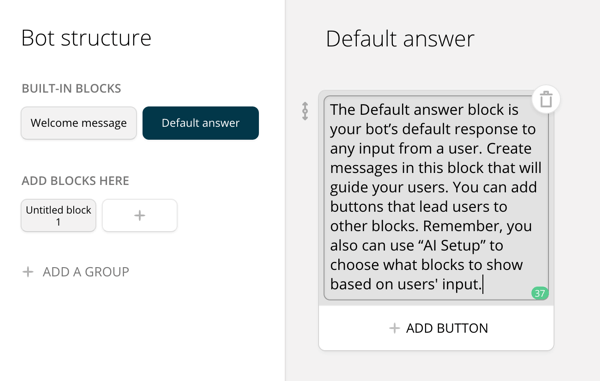 Remember this: you can add more than one button under this particular card, therefore if the most common customer requests are your hours, location, phone number, or directions, create another block with this information so that the customer's needs are answered.
If you want to create a new block, click + Add Block.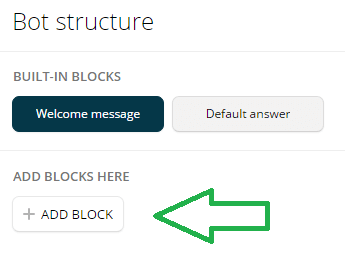 Now, a new screen will appear that allows you to start fresh with new cards and buttons within your chatbot so you can send the customer down a new interactive journey.

Finally, when you are happy that your Facebook Messenger Chatbot is completed. You want to test this chatbot to ensure all is working. You do this by clicking TEST THIS CHATBOT this shall also save your progress.

Additional testing phases should be utilised. Therefore, you should have friends and family to test it out on alternative devices.
#2: Show off your Facebook Messenger Chatbot to your customers
Now you have built your Chatbot you naturally want to show it off, correct?
Well the first thing that you can to ensure is that your Facebook page has its call-to-action button set to Send Message which shall drive traffic to your chatbot, as shown below.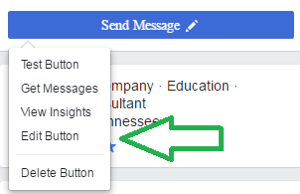 Alternatively you can pay for advertising to drive traffic to the URL of your Facebook Messenger.

Please follow and like us: